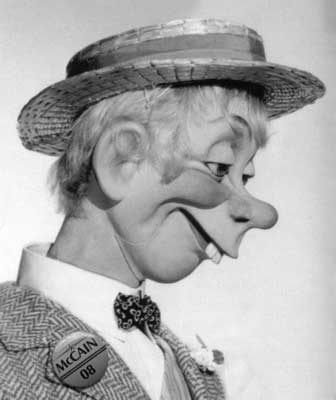 Too, too intellectual.
Are any of you worried that the Republicans will learn some tough lessons from their soon-to-be disastrous losses and reform themselves into a stronger, smarter, more competitive party? Don't be.
See, Rush has it
totally figured out
! It's not the racism, obvious stupidity, the reckless choice of sub-moronic Sarah Palin as voice of the party, or any of that stuff! No, the whole problem was being tricked into choosing a centrist like McCain (LOL) and listening to intellectuals like... well, Rush doesn't name them because he can't seem to think of any offhand. Peggy Noonan? Ha, ha!
Rush's solution is for the party to steer harder right, to get more exclusively anti-intellectual, to get more ideologically rigid, kick out the centrists and to put Sarah Palin in charge!
Yes, please!
WEDNESDAY UPDATE: More on this phenomenon from the
LA Times
.