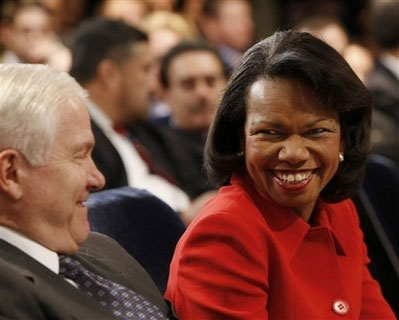 Current (?) and former (?) secretaries of state,
April 7, 2007


OK, so I was just reading the latest Federal Diary by Joe Davidson buried within the Washington Post's business section. It's all about trouble at the State Department, so I was of course thinking, "Ooh, Condi dirt." But now I'm more confused than ever! I think I totally need to call upon distinguished Pony Pal™ John Brown to explain this one (pretty please?).

So! The article is all about how nobody wants to work at the State Department anymore, personel levels are so low that tumbleweeds are bouncing down the halls, points are made about diplomacy being coopted by the DOD, and about how State doesn't train anybody to do anything so nothing is happening, etc., etc. People gripe and moan and wring their smooth, manicured hands. Tiny (yet perfectly formed) Robert Gates is interviewed and quoted at length. "What can I do," he moans, "when it's not technically my department?" OMG, it's really boring.

But there's one word which, it seems to me, is bafflingly absent from the article: Condoleezza.

So, Dr. Brown, can you please explain any of this to me? The article appears to be hinting at a colossal lack of leadership, right? But the complete lack of any mention of Condi appears to suggest that she's, like, totally checked out, and isn't even relevant to the issue. Am I putting this together the wrong way?

Also, the article fails to ask a pretty important question: why can't they get anybody to work for them? Actually, let's rephrase the question: why would anybody want to work for the DOS after the mess that Condi 'n' Bush have made of American diplomacy?

Thoughts from current DOS staffers are, of course, welcome and usually bragged about later.

One thing's for sure, Bill Richardson is going to have to clear a lot of cobwebs out of his new office come January.
UPDATE: John Brown, who totally
knows a thing or two about diplomacy
, and
quit the State Department
because of the Iraq war (you might want to marvel at his
letter of resignation
), graciously responds in the comments! OMG!