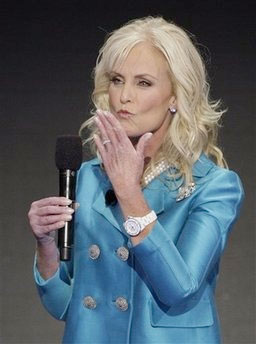 Cindy McCain, wife of Republican presidential candidate John McCain, blows a kiss during her speech at the Republican National Convention in St. Paul, Minn., Thursday, Sept. 4, 2008. (AP Photo/Ron Edmonds)
I am currently levitating about three feet off my desk, so you'll have to totally excuse me, but OMG, right? Double-breasted suit with exaggerated buttons in perfect aqua silk. And look, look, look: the black shoes echo back to both the clip-on and the hand-held microphones:
(Reuters)
So much for my theory that Cindy would dress down a little so as not to appear filthy rich. I'm also picking up the faintest, delightful whiff of
Loretta Lynn Goes to the White House
here. How could I have ever doubted you, Cindi? Will you please forgive me?
GODDESS:
(AP)