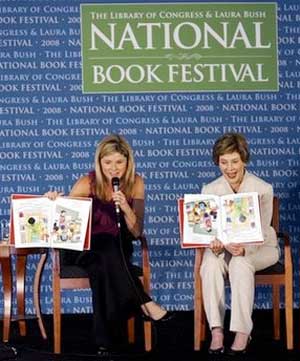 First lady Laura Bush and her daughter Jenna Hager read their book 'Read All About It!' during the National Book Festival in Washington, Saturday, Sept. 27, 2008. (AP Photo/Jose Luis Magana)
Apologies to Mr. Magana.
UPDATE: This just got reposted at Democratic Underground with the phrase "NOT a Photoshop." LOL. Um, Democratic Underground people, you may wish to re-read my headline, wonder why I would feel it necessary to apologize to the photographer, and consult my post in the comments section.
I guess I have to really say it plainly so the gullible understand: THIS IS A FAKE, PHOTOSHOPPED JOKE PICTURE.