Georgia's Foreign Minister Ekaterine Tkeshelashvili meets with U.S. Secretary of State Condoleezza Rice (R) during a bilateral meeting in central Brussels August 19, 2008. NATO Secretary-General Jaap de Hoop Scheffer said on Tuesday the alliance was freezing regular contacts with Russia until Moscow had fully withdrawn its troops from Georgia in line with a peace deal. REUTERS/Stringer (BELGIUM)
Mission Accomplished™! It's a little thrown-together, but it has the basics. Obviously, the set decorator could have benefited by using my guide to
building a better matching armchairs photo-op
. Tsk. Anyway! I knew she could do it!
So photo-op achieved, she flew to Poland: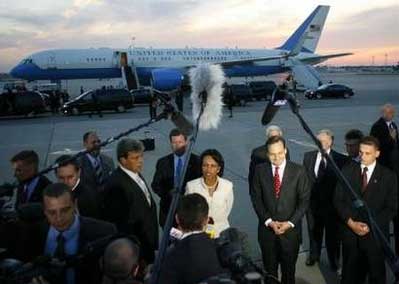 US Secretary of State Condoleezza Rice and Poland's Foreign Minister Radoslaw Sikorski speak with media as they arrived at Okecie airport in Warsaw August 19, 2008. Rice arrived to sign a deal for Poland to host elements of a U.S. missile shield. REUTERS/Kacper Pempel(POLAND)
Ooh, that missile shield sounds expensive. I'm sure Condi has more than earned her spot on the board of whichever fortunate defense contractor makes it.