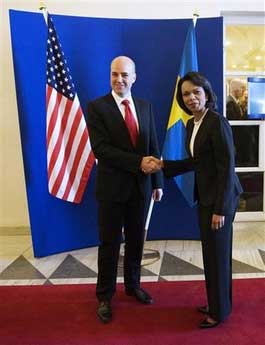 Secretary of State Condoleezza Rice and Sweden's Prime Minister Fredrik Reinfeldt shake hands during a news conference at Rosenbad in Stockholm May 29, 2008. Rice will take part in the Iraq Compact Annual Review Conference held in Infra City outside Stockholm.(Maja Suslin/Scanpix/Reuters)
OK, so this is that thing that maybe I mentioned? No? OK, well Condi went to Sweden for this kinda bummer-sounding "annual review" about Iraq 'n' such. They've already
warned us
that the whole thing is totally pointless. It's Condi's kicky new mantra:
lower the expectations, lower the expectations, lower the expectations...
So is it any surprise, then, that they sent the Condibot? Why should the real Condi go to a big conference and endlessly repeat talking points when the labor-saving, Disneytronic substitute can do all that
and
be shipped inexpensively as equipment.
Here's another. Ha, ha! It's so obvious that this is the Animagic Condibot (In a different outfit! Good job, Team Condibot!) tottering towards the king: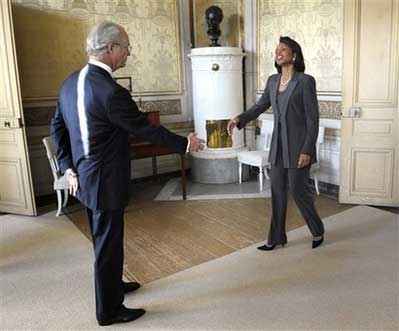 Sweden's King Carl XVI Gustaf, left, meets U.S. Secretary of State Condoleezza Rice, right, at Rosersberg Palace, following a U.N. conference on Iraq, Stockholm, Sweden, Thursday, May 29, 2008. Iraqi officials asked a U.N. conference Thursday for the cancellation of billions in debt and war compensation, a plea mostly aimed at Arab neighbors reluctant to forgive Iraq's belligerence during Saddam Hussein's regime. (AP photo/Scanpix Sweden, Janerik Henriksson)
UPDATE! Bonus! As a convenience to our Swedish readers, here is the above post translated by
gandhitoday.org
:
Ok, Condi stack iväg till Sverige för den där sortens skabbigt högtravande "årliga genomgången" om Irak å sånt. Redan på förhand varnade man att alltihopa var fullständigt poänglöst. Det är det som är Condis nya käcka mantra: minska förväntningarna, minska förväntningarna, minska förväntningarna…

Så är det nån överraskning att de skickade Condi-roboten (Condibot, konstgjord ersättare)? Varför skulle den verkliga Condi åka på en stor konferens och upprepa ändlösa bortförklaringar, när den arbetsbesparande Disneytronic-ersättaren kan skeppas över istället?

Här är en till - i annan utstyrsel! Ha ha, bra jobbat, Team Animagic Condibot! Se hur hon raglar fram mot svenske kungen.