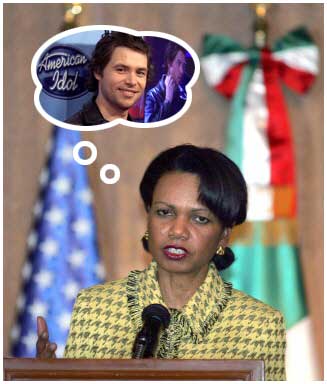 It seems that there's this show called American Idol, and it's got journalists that totally cover it and everything! So cute! Anyway, one of the wispy little things they feature on the show got invited to the White House, and what was awaiting him? A scary, clutching,
photo-op-demanding fan
:
AMERICAN Idol audiences voted him off the show, but Aussie Michael Johns has been embraced by Hollywood and even US Secretary of State Condoleezza Rice.
Have your say!

In a bizarre moment for the Perth-born singer, Johns was invited to the White House correspondents dinner over the weekend, where he was mobbed by Rice, Rob Lowe and the press corp gushing about his talent.

"Condoleezza Rice came up and hugged me, asked to take a picture and have an autograph," Johns told Confidential yesterday. "Rob Lowe demanded a recount, everyone thinks I was robbed."
No, Condi! Too young, too young! Also: Australian, and they hate us now. I enjoy imagining what it must have been like, with Condi frantically surveying the scene for a suitable pair of matching armchairs for the unexpected publicity windfall, a photo-op so banal that others will bow before it. What are the chances this picture will end up on state.gov? I'll keep you posted!