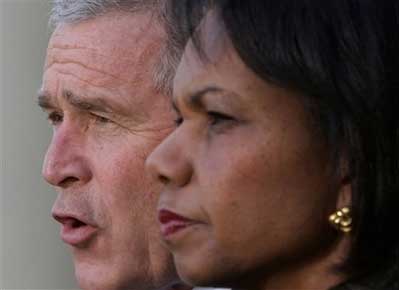 Secretary of State Condoleezza Rice, right, listens to President Bush make a statement in the Rose Garden of the White House in Washington, Tuesday, Jan. 8, 2008, after meeting with the Iraq Provincial Reconstruction Team. (AP Photo/Ron Edmonds)
Excuse me? Ron Edmonds? I'm totally sick of seeing those gold earrings AGAIN, so could you tighten up the shot and narrow the depth-of-focus?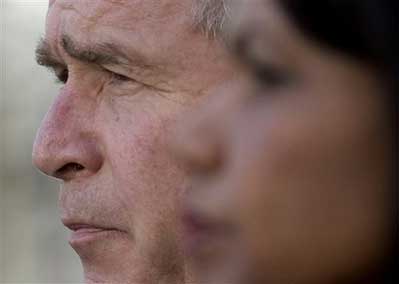 Thanks!
So anyway, I can comfortably say that the holiday Condidrought is over, so that's a relief. The above photo-op wasn't any big deal, just a "stand by your man" deal. But on Monday, Condi did a
day of interviews
: one with BBCArabic TV, one with Israel's Channel 10 (Hey! Fair 'n' Balanced!), and a "roundtable" for all the less glamorous reporters. There's kinda some funny stuff in there if you dig, but my favorite is this glacially-paced softball tossed by the Channel 10 guy, wherein he allows Condi to once again tell the only story she has about her childhood, one which she will never, ever stop using no matter how much she claims to dislike being self-reflective:
QUESTION: You are committed so much to the peace -- this peace process and I wonder if it has something to do with your background as a child in Alabama, witness hate crimes or witness terrorism? Is that one contributor to the fact you so much desire to bring peace to our region?

SECRETARY RICE: Well, I think any American Secretary of State going all the way back has had a strong interest in trying to see if we couldn't help use American influence to bring an end to the conflict. But yes, I think that sometimes one has to be careful about analogies. But I feel that I understand a little bit that when an Israeli mother puts a child to bed in Sderot or in a place that is under Haifa that they are -- you put your child to bed just a little bit afraid that maybe a bomb will go off.

And you know, since I lost a childhood friend in that bombing of the church in Birmingham, a little girl -- who with whom I'd gone to kindergarten, I know my mother must have had that fear. And I know, too, that a Palestinian mother who has to tell her child, well, we're not going to go on that road. Because you're Palestinian, must feel a little bit of a humiliation, even the anger that my parents felt when they had to say to their six or seven year old daughter, well, you can't go in there because you're black.
For Condi, that church bombing is truly the gift that keeps on giving.
EDIT: One of my coworkers assumed I blurred Condi in the second photo above. I did not.