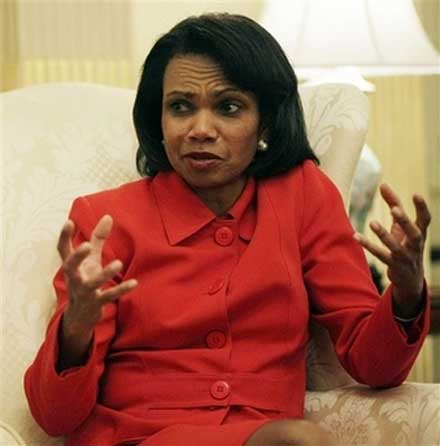 Secretary of State Condoleezza Rice is interviewed by The Associated Press, Wednesday, Dec. 12, 2007. at the State Departmenr in Washington.(AP Photo/Pablo Martinez Monsivais)
It is my unfortunate duty to convey this unpleasant set of photos taken to accompany
Condi's interview with the Associated Press
. Above, you can see she has torn her invisible friend apart in a spasm of rage. Below you can see her slamming a return on her invisible typewriter: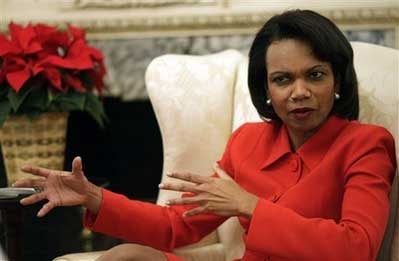 Removing the top of the skull of a toddler to get at the brains inside: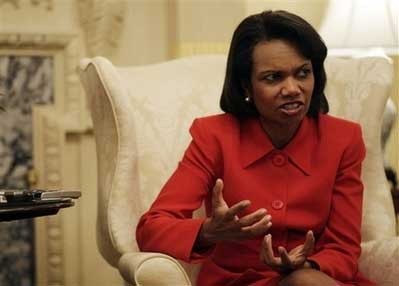 Photographer Monsivais becomes delirious, is hypnotized by the reflections on the table: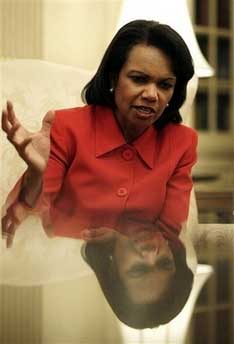 I think it all probably started off innocently enough: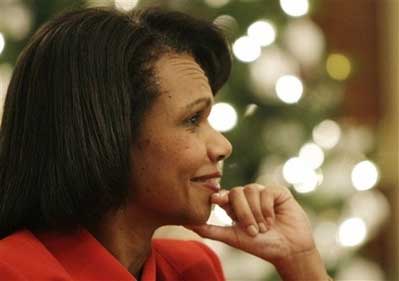 Oh! And in the interview Condi talks about... --surprise!!!-- Iran 'n' Korea. It turns out that one of them can be kinda left alone, but the other one makes us a little churlish, but I can never figure out which one is which.
Bumiller Reading Club update: the Condiography is kinda fascinating, kinda boring. I'm afraid the official PSP characterization of Condi as a fairly sexless, naïve Cinderella character with exceptionally evil Fairy Godparents is depressingly accurate.