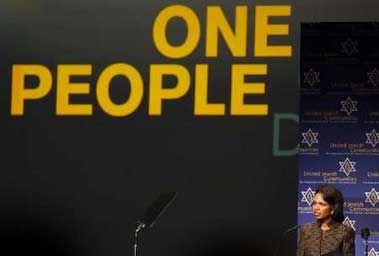 Secretary of State Condoleezza Rice addresses delegates at the United Jewish Communities General Assembly at the Gaylord Opryland Resort and Convention Center in Nashville, Tennessee November 13, 2007. REUTERS/Josh Anderson (UNITED STATES)
This is yet another example of the weird kind of pictures that happen when the Condirazzi get bored and start pointing their cameras around indiscriminately, hoping to get more interesting shots of a conservatively-dressed PR flak standing behind a podium.
Oh, did I just refer to Condoleezza as a PR flak? Whoopsie! Also, try re-reading the caption to the photo about five times, or until you collapse in laughter. Or tears. Whichever.