Senator Joseph Biden (D-DE) meets with U.S. Secretary of State Condoleezza Rice (R) on Capitol Hill in Washington, DC, July 18, 2007. Rice was on Capitol Hill to meet with senators about the Bush Administration's course of the war in Iraq. REUTERS/Joshua Roberts (UNITED STATES)
Yup, it was beggin' time again today for Condi, and this is surely one of her more hilarious stops. Condi 'n' Biden! Do you not love it? They're posture says it all:
we both know this is a fruitless meeting, but hey, here's two matching armchairs and a Reuters photographer!
And Biden, who you may remember (but probably not) is running for president, needs all the press he can get*, and he knows that the very incongruity of his little tea party with Dr. Ferragamo guarantees media coverage.
Finally, neither could hold it in anymore, and both simply burst into gales of laughter: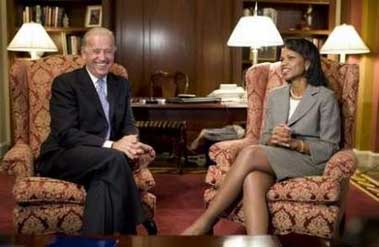 *He probably could use a little less of
this sort of thing
, which fell mercifully into my lap when I was guest editing at Wonkette.