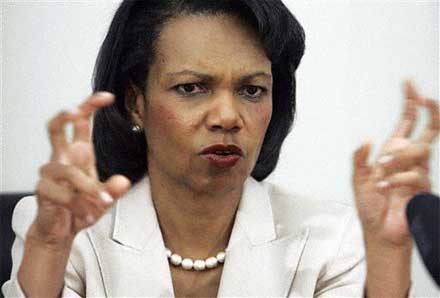 U.S. Secretary of State Condoleezza Rice responds to a question during an interview at Associated Press headquarters in New York, Friday June 8, 2007. The United States will pursue its own plans to put a missile defense in Eastern Europe despite Russian suggestions to locate it outside the region, Rice told The Associated Press Friday. (AP Photo/Richard Drew)
Dr. Ferragamo, usually so media-shy, consented to a rare interview with the Associated Press today (Sign on the door: NO REUTERS ALLOWED!). My guess is that she's using the air quotes above to qualify the word
peace
, as in "My goal is (air quotes)
peace
with Russia comparable to the (air quotes)
peace
we're fostering in the Middle East." And, indeed, Condi seems pretty disappointed that those wily stealth-commies totally disrupted the onset of her cherished
I'm not hoping for a new Cold War *wink wink*
project by doing the last thing anybody in her clubhouse expected: cooperating in a civilized manner. Poor thing! That's so not fair!
Can we look at more of the pictures? OK, here she is demonstrating proper red hankie techniques, if you know what I mean:
And here's a telling one where Condi wants to appear thoughtful, but her violent nature nevertheless results in her unconscious creation of a gestural handgun:
WONDERFUL UPDATE: A fabulous yet anonymous commenter pointed out the above as the ASL sign for lesbian.
See for yourself!
In this one, you can tell the photographer is starting to fade, and he's drifting away from the monotonous subject:
And you know, the wasted space in the above photo really got me thinking: if the Associated Press feels such a need to document Dr. Secretary's every public moment (thank you, by the way, AP), couldn't they wring a little more profit out of these ceaseless photo-ops? They should totally do that thing they do at Hollywood premieres where the arrivals are shot against backdrops patterned with the logos of the night's sponsors. Think about it, AP: