Well, no, not that Faith (see above). Granted, I loved
her
in
Gypsy
(yes, it's the same person. Read more about her exotic, Quixotic runs for mayor
here
), and I acknowledge that you've gotta have a gimmick, but after being told that I wouldn't be allowed to photograph myself writing her in, I decided to vote for Fenty after all. Oh well. Also, I wish I could vote here: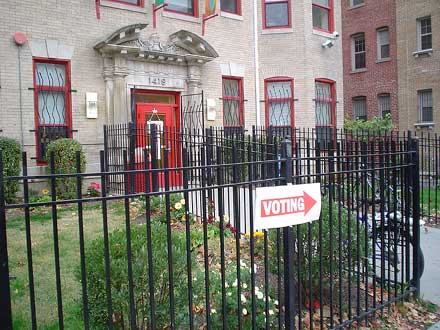 The polling place above is two blocks from my house and on the same street I live on, but no, I have to walk an extra half-mile to vote, for reasons I'll never understand. But voting was a pleasant experience (a Mount Pleasant experience, to be exact) even though I hate not being able to vote for representation in Congress. Tsk. On the other hand: no robocalls for me!
Your humble servant. May your coffee tomorrow morning be more delicious than ever!