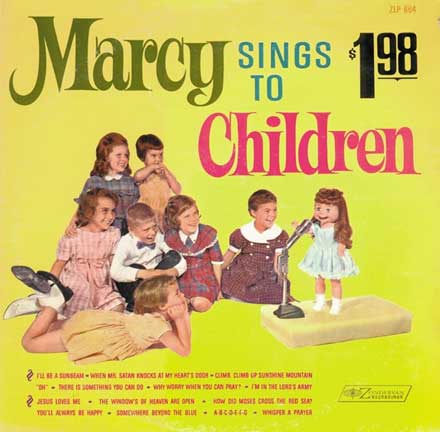 I'm so excited (and I just can't hide it) about this new feature, in which I share some of the more esoteric things from my audio collection. I think it's nice to have a weekly feature which breaks from a blog's usual topics, and Friday ugly tour bus photoblogging just wasn't cutting it. Monday audioblogging will feature selections from demented children's albums, wrong-headed spoken word dissertations, bizarre medical recordings, rare experimental records, etc. Thanks to
this handy gadget
, it's easy!
And what better way to start than with Little Marcy? Disturbing Christian music for children is one of my favorite genres, and I've got more than a dozen LPs by the fabulously nightmarish Marcy, whose power to clear a room exceeds even Throbbing Gristle. Go
here
to find out more about the mutant Jesus doll with the mostest, and lots more mp3 files. How much can you take?
These two songs are from the famous "Marcy Sings to $1.98 Children". You may either click on the link and let your browser decide what to do, or save the link to your hard drive and add some insanity to your iPod. Enjoy!
I'll Be a Sunbeam for Jesus (2:40, 1.9mb)
When Mr. Satan Knocks on My Heart's Door (:44, 878kb)
EDIT: A coworker of mine commented, "She later went on to be The Bride of Chucky."
Disclaimer: mp3 files are presented for educational use only. If anyone with a legal claim to these recordings wishes to squash me like a bug, please contact my battery of attorneys.

UPDATE: I'm thrilled at the response to this new feature, especially during such a dead week! Next week: Moog madness. Get ready to

rock.