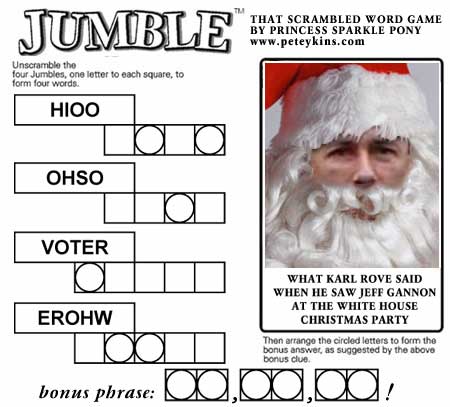 Hilariously cruel reporting from Dana Milbank in
this morning's Post
:
Let us pray.

Let us pray that, on next year's National Day of Prayer, there is better attendance at the "Bible Reading Marathon" on the West Front of the Capitol.

Organizers put out 600 folding chairs on the lawn -- the spot where presidents are inaugurated -- and set up a huge stage with powerful amplifiers. But at 9:30 a.m. yesterday, not one of the 600 seats was occupied. By 11 a.m., as a woman read a passage from Revelations, attendance had grown -- to four people. Finally, at 1 p.m., 37 of the 600 seats were occupied, though many of those people were tourists eating lunch.

Where was everybody?

"This isn't that kind of event," explained Jeff Gannon, spokesman for the host, the International Bible Reading Association. Gannon, actually a pseudonym for James Guckert, had earned fame in 2005 representing a conservative Web site at White House briefings until it was revealed that he posted nude pictures of himself on the Web to offer his services as a $200-an-hour gay escort.

Let us pray for the power to understand how Gannon made his way from HotMilitaryStud.com to the International Bible Reading Association.
But wait! The unloveable man-whore sneaks into an item later in the column, too:
Let us pray, as well, for the beleaguered practitioners of Christian street theater, for they deserve greater press coverage.

The Rev. Patrick Mahoney of the Christian Defense Coalition scheduled a "National Day of Prayer observance" and news conference for 3 p.m. yesterday in front of the Supreme Court. Gannon, wearing a Marines baseball cap, arrived to help with the press outreach.

But the event attracted only one photographer (from the Washington Times), one reporter (author of the Washington Sketch) and not a single television camera. The participants themselves were late, and only eight showed up.

Hee hee! I don't know what's funnier: Gannon "helping with the press outreach" (Great choice! He's always been so good with the press! And, hey! He got Dana Milbank to pay attention to him!), or Gannon still pretending he was in the Marines (he wasn't).