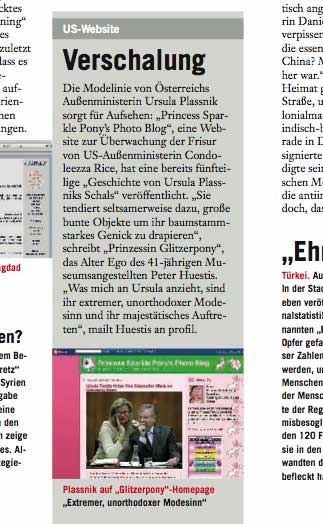 I'm pleased to say that the Pink Pony is featured in the latest issue of Austria's
Profil
magazine (see above) thanks to the attention payed here to fabulous Ursula Plassnik and her 'majestic scarves'. The author of the piece, Pony Pal 4 Life™ Sebastian, is trying to goad the affable giantess' staff into responding. Happy goading!
But all kidding aside, since this is the first post La Plassnik's staff are likely to encounter, a special message to them: I would trade our Condoleezza for your Ursula in a hot second, because while Condi's running from photo-op to photo-op accomplishing nothing, Ursula the Great seems to actually get her job done, all with an obviously breezy manner and fierce dedication.
Sadly, there are limits to Plassnik's powers, because not even her fun-sized cuddles 'n' hugs couldn't help save this guy's career:
Serbia's President Boris Tadic welcome Austrian foreign minister Ursula Plassnik, Wednesday, Jan.17,2007, in Belgrade. Austria's foreign minister and Romania's president were in Belgrade for separate talks with top Serbian officials ahead of parliamentary elections and an expected U.N. proposal on the future of the breakaway Kosovo province. (AP Photo/Srdjan Ilic)
Update: Meta
metameta
blogging? Sure, why not? Here's Seb's
blog post
about this post about his article. Yay!